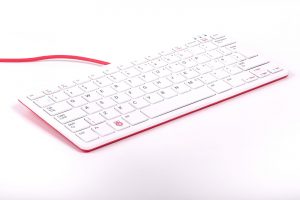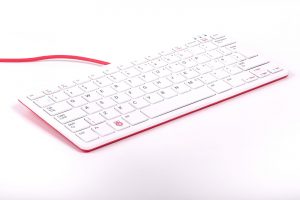 Raspberry Pi keyboard
Taking the keyboard first, it measures 285 x 120 x 22mm and colour options are white/red or black/grey.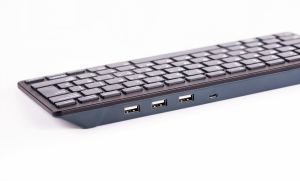 A neat thing is that it includes three USB Type A host ports for external devices (as well as the MicroUSB port for connecting to the Pi). In other words, you can connect a USB mouse, USB drives or other USB controlled devices.
The Raspberry Pi team writes:
The keyboard is a 78-key matrix, like those more commonly found in laptop computers. This is the same compact style used in previous Pi kits, just an awful lot nicer. We went through many prototype revisions to get the feel of the keys right, reduce the light leaks from the Caps Lock and Num Lock LEDs (who would have thought that red LEDs are transparent to red plastics?) and the surprisingly difficult task of getting the colours consistent.
It is currently available in six layouts – English (UK), English (US), Spanish, French, German, and Italian – but more are promised "soon".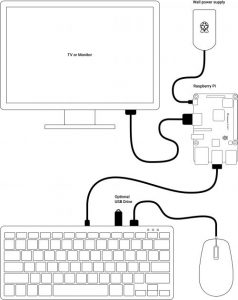 Talking about the USB hub IC:
"The PCB for the keyboard and hub was designed by Raspberry Pi, so we control the quality of components and assembly."

"We fitted the best USB hub IC we could find, and we worked with Holtek on custom firmware for the key matrix management. The outcome of this is the ability for the Pi to auto-detect what country the keyboard is configured for. We plan to provide a range of country-specific keyboards: we're launching today with the UK, US, Germany, France, Italy, Spain – and there will be many more to follow."
Raspberry Pi Mouse
For the optical mouse, the colour are options are again white/red or black/grey.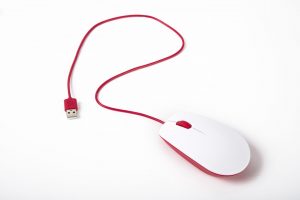 As you might expect, there are three buttons, with the middle one being the wheel for quick scrolling when browsing documents and web pages.
"The mouse is a three-button, scroll-wheel optical device with Raspberry Pi logos on the base and cable, coloured to match the Pi case. We opted for high-quality Omron switches to give the click the best quality feel, and we adjusted the weight of it to give it the best response to movement."
Availability
You can buy the new official keyboard and mouse from The Pi Hut, Pimoroni, ModMyPi and Pi Supply. Or, of course, at the bricks and mortar Pi shop in Cambridge.
The keyboard is priced at £15.50 and the mouse at £7.25.